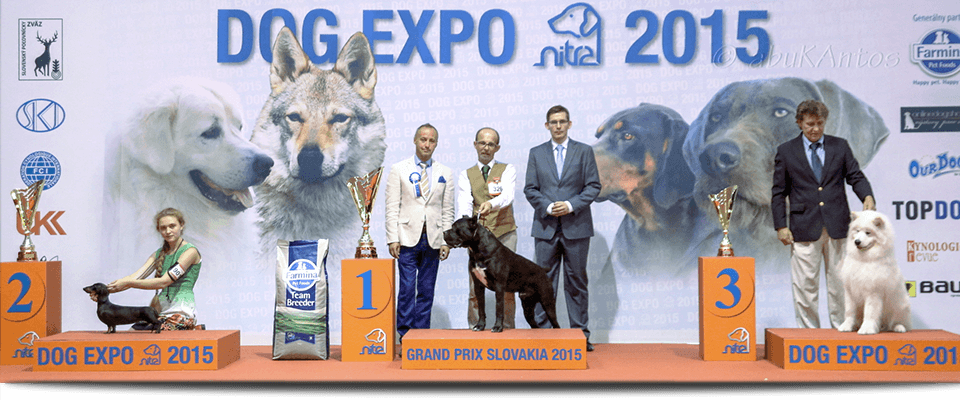 Dear business partner,
As a part of the international dog shows Dog Expo Nitra 2022, which have the longest tradition in Slovakia, there will also be a sales-contract exhibition of pet products, named all4dogs. For the second time we invite you to promote your company, products or services to an event with a large international entry in Nitra, June 10 – 12, 2022. The all4dogs exhibition will be located in a separate hall directly connected to the show halls with rings of the Dog Expo Nitra 2022 (In case of epidemiological reason the place can be changed to outside area) . If you decide to participate with your trade stand at the first all4dogs sales-contract exhibition, please fill in and submit your order form. Based on your order, we will send you an invoice, which must be paid within the due date.
Terms & Conditions: 
retail of small pet products: 15 € / day / m²

 

wholesale, distribution, dog food retailers: 24 € / day / m²

 

registration fee: 35 €

 
(the price of the registration fee includes car access to the exhibition grounds during the show and publication of the company name and location of the trade stand in the show magazine)
any additional car: 25 € / 3 days
(prices without VAT)
 Bookings accepted until: May 26th, 2022
If you are interested in an electrical plug-in, please state this in the order. The price for the electrical plug-in is stated in the order. It is only possible to order the area for a trade stand for all 3 days. It is possible to order a minimum size of the stand 2 x 2 m. In case of building a larger stand than ordered and paid, a 100% penalty will be applied.
You can also take advantage of a promotion in a form of advertising in the show magazine with a 25% discount. Discounted advertising prices (in case of ordering space for a sales stand):
1 A4  300,- €
½ A4  195,- €
¼ A4  113,- €
Contact: [email protected]k